Look ahead also means a look back for Canby mayor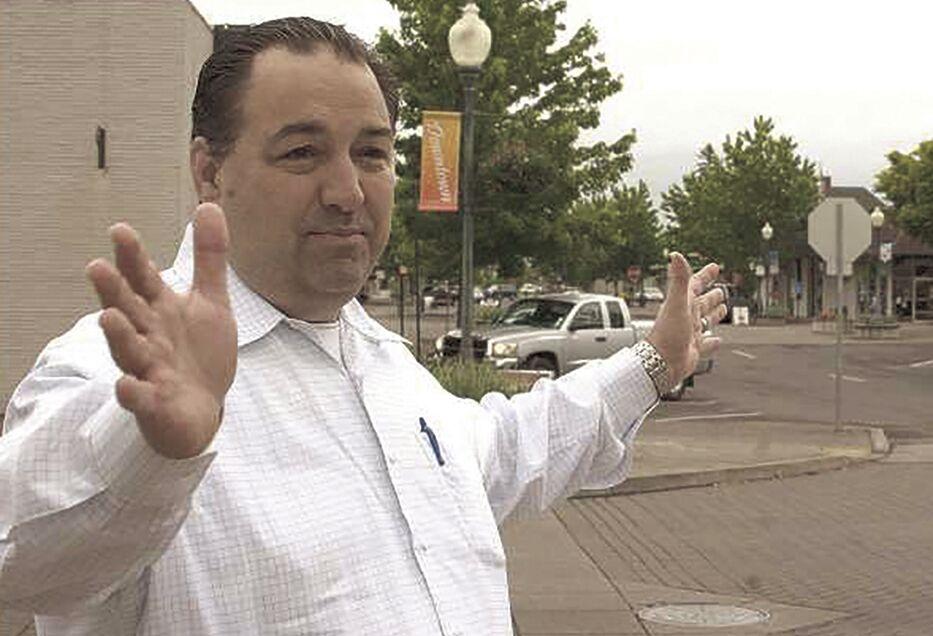 As he stood in front of a large crowd on a chilly Thursday night, you'd never know that Canby Mayor Brian Hodson isn't a fan of public speaking.
There's a bit of irony there given Hodson is now in his 11th year as mayor, a position that includes plenty of public speaking, including the annual State of the City address he delivered Feb. 16 at Cutsforth's Town Hall.
The State of the City, he said, provides a chance to reflect on the city's accomplishments from the past and look at what's possible in the future. That, said Hodson, is one of the things he does enjoy about the SOTC address.
"Generally, my goal with every State of the City address over the last 10 years is to give a recap of how the previous year was, the challenges and successes we had, and looking ahead to this year and coming years. What are the things we (the city) are looking at getting accomplished, or we can head off potential challenges we might already know are coming our way."
Hodson said that his goal for the State of the City address is that those who attended have a better understanding of what's going on, particularly the things that get done that go beyond the everyday operational aspects.
"I want them to take away some of the things that are being looked at in the coming years and where those people who are interested, can get engaged and get plugged in and have a say in what's going on," Hodson said. "I want them to find a place to be interactive rather than reactive."
One of the biggest items Hodson discussed is the city's Comprehensive Plan. It provides an overarching plan for just about every aspect of city services and programs and provides plenty of opportunity for local involvement.
"This is a big piece of the State of the City address and where I ask people to be watchful of these gates as the planning moves forward," Hodson said. "We really crave that input from Canby citizens about where they want to go in the next 20 years. How do we want to grow, develop and frame our transportation system, formulate our future housing and what will that mix look like?"
By soliciting citizen input at various stops along the Comprehensive Plan trail, Hodson hopes to see a lot of locals getting involved and making a difference.
"It will offer a lot of opportunity to get involved," he said. "It's an interactive process. The plan is only as good as the input we get as a city council and staff."
Here's a few other things Hodson covered during the State of the City address:
A discussion on the city's Parks Master Plan, which was finished last year, and the ways to maximize that plan moving forward. "What does the future implementation of those parks pieces look like," Hodson said.
Hodson provided an update on the Canby Police Department and the work they have done in the last year. There have been some key staffing pieces added and some good work done regarding the opioid epidemic.
Hodson also shared some economic development items, focusing on the industrial park and what's coming there in the future. He pointed to Canby's downtown core area and the changes that are occurring there. "There are some very exciting things happening downtown," he said.
Hodson spent some time discussing the vibe with the new city council. Three meetings into the new year and he said that he's encouraged at the working relationships that have developed.
"This is maybe not talked about a whole lot, but I'm encouraged by the dynamics of the council," Hodson said. "We had our goal setting last Friday (Feb. 10) and it went very well, we had very good conversations. We were able to take a lot of things and kind of fine tune them for the future."
Hodson's State of the City also delved into the city's financial health and the reserves the city creates within its budget. Hodson said the goal is to have reserves at a level that is sustainable in case of a major economic downturn, which can help the city provide the same level of service for an extended period.
"So, what does that percentage look like?" he asked. "But then we don't want to sit on too much reserve and not invest it back into the city in the best ways possible. It's a fine line to walk. What is the best investment for those funds?"
Some fees the city has will also get a looking over in the new year. Hodson pointed to the park's maintenance fee and the street maintenance fee, a fee that has been unchanged since it was instituted about 12 years ago.
"The council has given (city administrator) Scott (Archer) a directive to re-establish a committee on the street maintenance fee and come back with a recommendation," Hodson said. "This will certainly be another chance for community engagement. When we instituted it, we had a flat $5 fee and 3 cents a gallon tax within the city of Canby. Right now, we're only collecting about $3.50 worth of value for that $5. We've lost $1.50 between when we implemented it and now. And with that, we're not doing the amount of road maintenance we used to be able to do. That's something we need to look at because our roads are assets."
Hodson also discussed the new ground lease with the Canby School District that could see improvements in the Canby Swim Center and Canby Adult Center down the road.
"It's time to look at investments in those assets as well," Hodson said.
But for now, another State of the City address is in the books and with it, the city's eyes turn to a plethora of projects and issues coming down the road. Hodson, for his part, was happy to share with the crowd.
"I do look forward to it every year," Hodson said. "It's a great opportunity to take a look back, but also aspirational. Hopefully, it will spur some great conversation in the community."